Market Your Chiropractic Practice - Grow Each Week
By Chris Barr

It is easier than ever to build your practice with effective marketing techniques. Recent studies conducted by the I/H/R/ Research Group have clearly determined that most people prefer drug-free treatment for back, neck, and pain-related issues. The survey, commissioned by the American Chiropractic Association also showed that more than 64 percent of the respondents said that they would consider seeking the health care services of a Doctor of Chiropractic to provide their drug free care. However, the survey showed that only 13.8 percent of respondents were currently seeking health care from a Chiropractor. It is critical for chiropractic business decision-makers to market their services to prospective clients who desire a safe alternative to medication, but who do not actively seek chiropractic treatments.

The most effective way to build your practice is through newspaper inserts and other forms of print advertising. Newspaper inserts, flyers, and postcards create not only drive new patients to your office, but the advertisements lend credibility to your business as well. Through the power of print, you can make an immediate impression on your prospect while simultaneously creating an identity and credibility for your business. Dr. Greg Iacono, Clinic Director for a Spinal Rehabilitation Center located in Atlanta, Georgia, has found print advertising to be his main method of practice building. The practice owner recently spoke about the importance of effective marketing. "I have built my entire business with full color print inserts. Other things I've tried haven´t produced like my weekly print advertising materials. The response is amazing."

When asked what type of measurable results his newspaper inserts produce, Dr. Iacono remarked, "We get about eight to ten new calls per week, often more. Those same calls turn into customers, and my practice grows each week as a result.' His rapidly growing practice runs 20,000 full-color inserts each week in the local area newspaper."Frequency is everything," said Dr. Iacono. "People need to see the ads on a regular basis, customers need to see our name on a regular basis...we noticed early on in our advertising endeavors that when we missed just one week's worth of print inserts, calls dropped dramatically. Practices must gear up to do this long term and plan their marketing budget accordingly."

How to Track Marketing Dollars and Evaluate Advertisements

Print advertising is an exciting and fast-acting solution for practices in need of more clients and monthly volume increases. However, it can be a daunting endeavor for those who are new to the print advertising scene. One of the most common reasons that chiropractic businesses choose not to take advantage of print advertising is the lack of ability to track their marketing dollars. This notion of print advertising being "untrackable" is simply false. There are great ways to increase your business and track where it came from at the same time! Here are some suggestions to improve your print advertising campaigns.

Include a coupon on your flyer or newspaper insert. By doing so you will be able to track which ads generate business, and it will also function as an incentive for the customer to call.
Advertise in full-color and create color-coded special offers. For example, create green package, blue package, and red package promotional discounts.
Include a 'trackable´ contact method on your print advertisement. Some good examples of this would be a webpage or unique phone number associated with one particular flyer or print insert.

Grow your practice today with smart, cost-effective marketing techniques.

You may utilize this article on your site or within your publication as long as you retain the following live links and author information:

Chris Barr is an experienced marketing professional and graduate of Christopher Newport University. He specializes in print advertising, business development, web business strategic positioning, and technical writing. For the lowest prices on chiropractic flyers, full-color flyers, newspaper inserts, brochures, menus, and postcards please visit http://www.taradel.com

Chiropractor Marketing Secrets: Proven Tips, Tricks and Strategies To Get More Patients.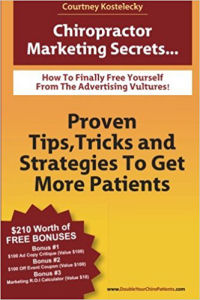 This book will help your business thrive, instead of survive. The focus of the book is getting more patients. The strategies include ideas and simple 'tweaks' to your offline advertising like phone books and direct mail. You will also discover how to effectively use online marketing, social media and video marketing to get new patients and to establish rapport with your current ones. The book is written in an easy to understand format. Included for the very first time is the strategy I used to take a chiropractor from page 12 of Google to Page 1 in 45 days. This strategy can be implemented in as little as 17 minutes per day with zero technical experience necessary. Whether you have been in business for a while, or you are just starting out- Chiropractor Marketing Secrets will give you the advantage your practice needs to thrive in today's economy. You will also learn... *How to avoid being 'scammed' by so called 'Internet Marketing Experts.' * The one thing that EVERY Chiropractor should have in their waiting room. * Effective Email Marketing. * How to Use YouTube to get more patients. *Simple 'Tweaks' to your website to Optimize if for Maximum patient accquistion. * MUCH MORE.