Acupuncture and Chiropractic Health Cards (Wallet Size)
Acupuncture and Health cards for students and doctors. Small cards that fit in your wallet, purse or pocket. They are an easy reference to look over during class or while treating a patient. Visual educational tools to explain your topic to a prospective or current patient.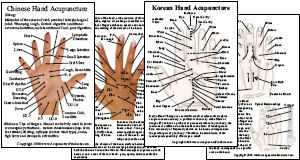 Chinese & Korean Hand Acupuncture Cards
Over 60 points mapped out on these two double-sided laminated cards. Extraordinary acupuncture point information for points not found within the main meridian system.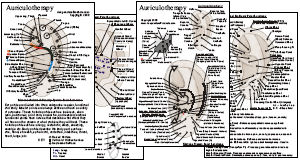 Auriculotherapy Ear Acupuncture Cards
4 Auricluar Acupuncture Diagrams on two double-sided wallet size card. Cards measure 2-1/4" X 3-3/8" each and fit in your wallet. 5 mil lamination so images will not rub off. Will last for years.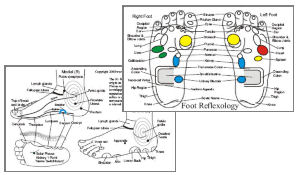 Foot Reflexology Card
Foot reflexology points on one double-sided laminated card. Shows the reflex zones on the soles and sides of the feet.