Acupuncture and TCM Charts 8.5" X 11"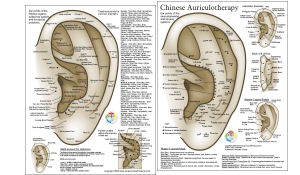 Chinese System of Ear Acupuncture
Double sided 8.5" X 11" laminated chart contains the Chinese system of auricular acupuncture point locations. It is a quick reference for treating patients. All points are in English.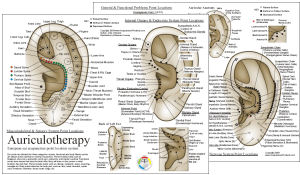 European Auriculotherapy System
Much easier to read than some current charts that bunch all of the points into one picture. This chart has four diagrams with the French system of auriculotherapy.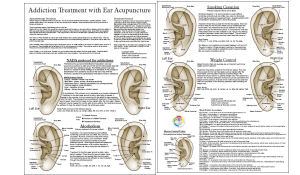 Smoking Cessation Ear Acupuncture Points Chart
Laminated 8.5 X 11 chart with the smoking cessation formula and you get formulas for weight loss, alcoholism and drug addiction. Each condition comes with treatment protocols and additional body acupuncture points.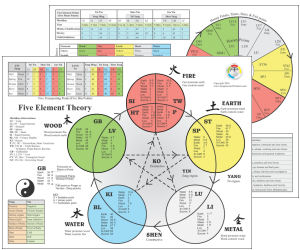 Color Five Element Acupuncture Chart
This laminated chart clearly shows the relationship of the five elements (Fire, Earth, Metal, Water and Wood), alarm, associated and horary points.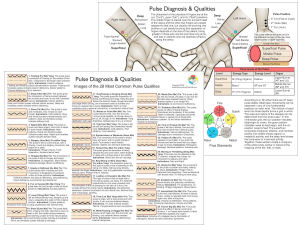 Pulse Diagnosis Chart
Images of the 28 pulses used in Traditional Chinese Medicine. Descriptions of the feel of each pulse including indications.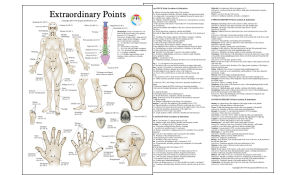 Extraordinary Acupuncture Points Chart
Extraordinary points are non-meridian points note contained within the 12 main meridians. This chart contains 64 extraordinary points with point location and indications for each point.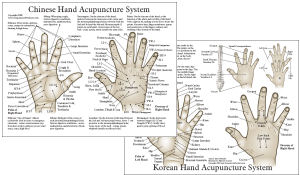 Chinese Hand Acupuncture Chart
60 points mapped out on a full color hand, back and front. Extraordinary acupuncture point information for points not found within the main meridian system.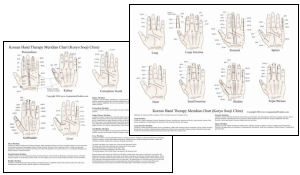 Korean Hand Therapy Meridian Chart
Koryo Hand Therapy is very effective in treating a wide range of ailmentsthrough the stimulation of acupuncture points found on the microsystem of the hand.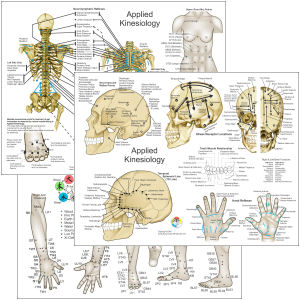 Applied kinesiology Chart Set
Neurolymphatic reflex points, Neurovascular reflex points, Stress receptor locations, TS line, Hand reflexes, Acupuncture tonification and sedation points, Tooth muscle relationship and Acupuncture points for the treatment of gait mechanism.